Events
DUMPLING MAKING: A CHINESE NEW YEAR TRADITION
Learn to make authentic Chinese Dumplings to Celebrate the Year of the Rooster
CHICAGO, IL, Saturday January 21st, 2017 at 3:00pm, and/or Saturday February 4th, 2017 at 3:00pm – It's not too late to celebrate the New Year! The Chinese New Year, the Year of the Rooster, begins February 28. The Chicago Chinese Cultural Institute will showcase the 1,800-year-old Chinese tradition of dumpling making during its 13rd Annual Dumpling Making Dinner at 3 pm, Saturday, January 21st, 2017 and/or Saturday February 4th, 2017 
Chinese families celebrate the New Year by making dumplings, know as jiaozi. a coin was hidden in a dumpling, which believed to bring its recipient wealth. The Lunar New Year, or Chinese New Year, comes from an agrarian tradition and the dumpling making dinner honors this history by encouraging people to make the food that they will eat.
"It is our hope that this experience can be symbolic of the culture, and excite people to learn more about China," says Z. J. Tong, President.
Dumpling making dates back to the Eastern Han Dynasty (25 AD – 220 AD) in China when the delicious ravioli-like pockets were filled with traditional herbal medicines. Over time, the practice of eating dumplings during the Chinese New Year feast evolved. Dumplings are considered a token of good fortune because they are shaped like traditional Chinese currency, called yuanbao. The dumplings are served as a way of welcoming wealth in the New Year.
Guests to the New Year dinner will learn the history and significance of the Chinese dumpling and how to prepare the dumplings. After which they will be served a full meal may including Chicken Corn Soup, Crab Rangoon, Vegetable Egg Roll, Deep Friend Shrimp Ball, Chicken and Vegetarian Dumplings, Kung Pao Chicken, Fish with Soy Bean Paste, Mongolian Beef, Braised Bean Curd with Black Mushroom, Vegetable Friend Rice, and Water Chestnut Cake.
The Chicago Chinese Cultural Institute promotes cross-cultural understanding in the greater Chicago area by offering a US-China Cultural and Educational Exchange Program, as well as corporate services for companies and professions that need assistance working with Chinese business culture. This program also organizes and hosts events to display the vast cultural and culinary history of the Chinese people. In addition, the institute offers personalized Chinatown tours, classes in Tai Chi, Paper Cutting, Kite Making, and more.
Tickets for the Chinese New Year Dumpling Making Dinner can be purchased via Chicago Chinese Cultural Institute's Facebook page or by visiting http://www.chicagocci.com. For more information about Chinese Dumpling Making, please call 312-842-1988 or email info@chicagocci.com.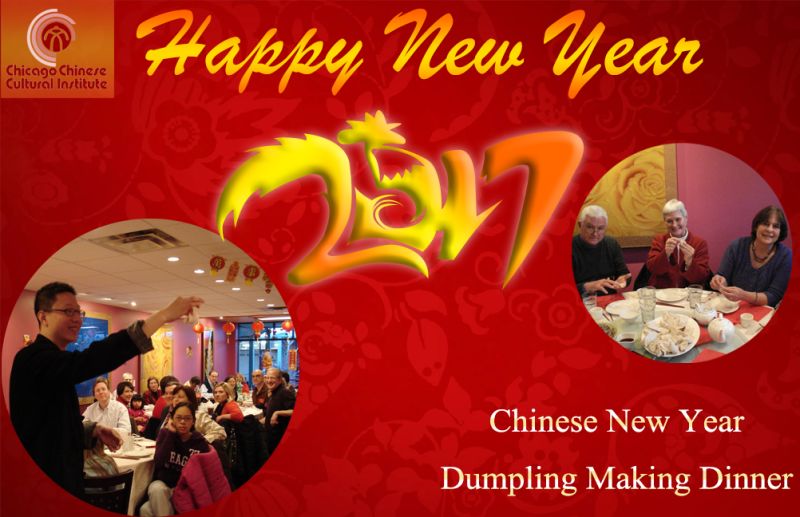 To celebrate the incoming Year of Rooster, Chicago Chinese Cultural Institute (CCCI) invites you to join us for our 13rd Annual Chinese New Year Dumpling Making Dinner on Saturday, January 21st, and Saturday, February 4th, 2017 at 3:00 pm.
For the past eleven years, CCCI's Chinese New Year Dumpling Making Dinner has become one of the most recognized traditions of Chicago Chinese new year celebration.  CCCI is dedicated to promoting Chinese culture in the Greater Chicago area, and we hope to keep this tradition of celebrating the Chinese New Year with our friends.  In the recent years, many of you have supported us and our culture events. In return, we would like to share the joy and prosperity of Chinese New Year with you. We hope to see many old friends at this year's Dumpling Making Dinner and would love for those of you who are new to Chicago Chinese Cultural Institute to join us for the celebration as well.
As always, there will be story telling, dumpling making, authentic Chinese cuisine, and lots of surprises and fun. Seating is limited, and this event often sells out quickly. Be sure to get your seats early!
To buy tickets, please visit: eventbrite 
Also, be sure to check out our facebook event!